News - September 2011
Back to News Archives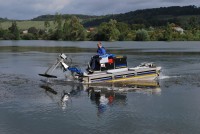 WEED CUTTING ..

We have just completed a weed cutting / harvesting operation on VALLEELAKE 2 .

A specialist weed clearing company was contracted to under take the work for us cutting and extracting weed on lake 2 .
The Dutch company involved will now be contracted on an annual basis, which will be undertaken early in the year ,

helping to prevent weed problems as experianced this summer.

Other improvements on lake 2 will be the introduction of 4 additional boats for marker placement - this free of charge to all anglers , additional stock has also been ordered for the introduction this winter . News / photos of the fish will be reported after the stocking..




Vallee Lake Fishery, BP35, 76340, Blangy sur Bresle, France
Phone:
0033 235 94 66 85 / 0033 677 22 51 99
E-mail:
info@valleelake.com

Vallee Lake Fishery, BP35, 76340, Blangy sur Bresle, France
Phone:
0033 235 94 66 85 / 0033 677 22 51 99
E-mail:
info@valleelake.com