News - February 2012
Back to News Archives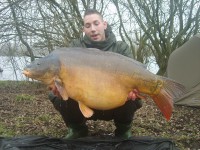 Andrew Roberts - 30th Feb 12'

Hi mark and Natalie at vallee lakes. I want to thankyou for a fantastic mid week trip. After being ordered by the doctor to relax and get well it was nice that you could accommodate me at such short notice.
Fishing the end of February I wasn't expecting to catch many and would have been happy with 'a fish', however what happened next was a real pleasant surprise.
Fishing Vallee lake one, I had a total of six winter crackers in all their amazing golden colours.

37lb 10oz mirror tues 28th feb 1230hrs

54lb 12oz mirror tues 28th feb 1910hrs
NEW PB

49lb 10oz mirror wed 29th feb 2030hrs

41lb 7oz mirror on thurs 1st march
0200hrs

34lb 10oz mirror on thurs 1st march
0230hrs

40lb 1oz mirror on thurs 1st march 0530hrs .
Mark, thanks for dropping what you were doing and coming back to the lake to photo my new PB.

I had an awesome and very relaxed few days, just what the doctor ordered. Can't thank you enough. C u again soon, tight lines.
Andy


64lb ICEBREAKER !! (feb news)

With Ice still present on the lakes - this didn't deter anglers from fishing on VALLEELAKE 1.

Braving the winter conditions and fishing a short session a number of anglers profited from their endeavors fishing literally after the ice broke up .

Michael Schoot caught his PB in the shape of a superb conditioned 54lb Mirror taken on a pop up fished over crumbed boilie and particle .

This was followed by a WHACKER of a 64lb Mirror taken by a delighted Vincent Kleibrgen together with a 35lb Mirror and 44lb Mirror taken by his fishing partner .

Another 50lb + fish also caught on balanced mais and a last minute thirty 33lb caught by young Justin fishing swim 9 taken on boilie .

The total weight of the session comprised of 281lbs with the average
weight @ 46.84lbs ..

'Fantastic fish ,venue and hospitality! and beyond our wildest expectations see you soon mark & Nathalie ' Vincent .

Vincent manage to video the 64lb Mirror - so watch out soon for the video release !




Vallee Lake Fishery, BP35, 76340, Blangy sur Bresle, France
Phone:
0033 235 94 66 85 / 0033 677 22 51 99
E-mail:
info@valleelake.com

Vallee Lake Fishery, BP35, 76340, Blangy sur Bresle, France
Phone:
0033 235 94 66 85 / 0033 677 22 51 99
E-mail:
info@valleelake.com