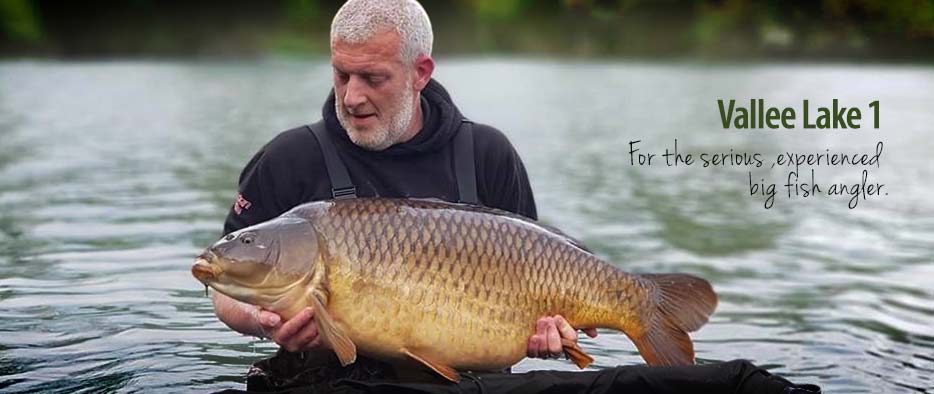 Welcome to Vallee Lakes
Carp fishing in France


Big Carp Fishing in France, located in upper Normandy, Vallee Lake 1 and Vallee Lake 2 are set in stunning locations close to the three major ferry ports of Dieppe, Boulogne and Calais, the closest being only an hour away and home to Carp over 70lb!
Carp fishing accommodation
This makes Vallee Lakes the perfect location for both weekend and week stays for both the bivvy angler and for those who choose one of the beautiful bank side lodges.
Big Carp
The lakes are well stocked and managed ,with stunning Carp to over 70lb, Catfish to over 100lb and massive Sturgeon to over 90lb, making carp fishing in France at Vallee Lakes ideal for catching your PB or even on a long weekend sessions. Suited to experienced serious carp anglers.

Only 1.2 hours from Calais
Carp fishing in France at Vallee Lake 1 being over 13 acres and carp fishing in France at Vallee Lake 2 being over 24 acres - with a choice of sessions starting on Fridays, Saturdays and Mondays added with superb facilities, service and locations (and pre booking visits), the choice is yours.
---
Lake News
May 2021
Travel Updates .. PCR Tests
Currently France is on the Amber list from the U.K. wit...
Read more

Lake improvements 2020
LAKE improvements : 2021
We have been busy on both lakes cutting snags , clearing trees and bushes .. and continued maintenance and fish feeding ..
Bait :
Due to Brexit it is now prohibite...
Read more

---
For the latest catch report and updates as they happen please see our Facebook page by clicking here.
---
---
Need a crossing for your French fishing holiday?
We have teamed up with FishingFerry.com to offer you a
10% discount
off your crossing to France for your carp fishing holiday to Vallee Lakes. 
---
Travel Insurance
As you'll need travel insurance to visit Vallee Lakes, battleface may be able to assist you.
battleface have been voted International Travel & Health Insurer of the Year 2020. Specialised travel insurance for people who need more than ordinary insurance.

battleface covers all destinations, including countries under FCDO and government essential and non-essential travel advisories. For Covid 19, Battleface provides medical expenses cover for travellers up to age 59 as well. Cover is for UK residents and up to a further 54 other nationalities - please ask for more details.
Click Here to get a travel insurance quote from battleface.
battleface is provided by Tangiers Insurance Services Limited, a UK insurance intermediary authorised and regulated by the Financial Conduct Authority, Tangiers Underwriting Services SRL, a Belgian mandated underwriter registered with the Authority of Financial Markets and Services and battleface Insurance Services LLC, a US licensed insurance producer. The details provided on this webpage are for information only. Always read the description of cover contained within your policy to ensure it is suitable for your needs.
Vallee Lake Fishery, BP35, 76340, Blangy sur Bresle, France
Phone:
0033 235 94 66 85 / 0033 677 22 51 99
E-mail:
info@valleelake.com

Vallee Lake Fishery, BP35, 76340, Blangy sur Bresle, France
Phone:
0033 235 94 66 85 / 0033 677 22 51 99
E-mail:
info@valleelake.com