News - April 2009
Back to News Archives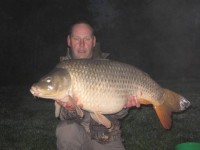 24th April - Ist May
Forties Galore !!
What a great end to April, with over nine forties , a hulking 55lb Mirror and a beast of a Sturgeon at 80lbs being best of the fish this week !

Jason Bodil fishing swim 10 having four forties a 50 + etc being :41lb, 42lbs , 41lbs .48lbs , 55lbs and a few thirties including a nice double linear Mirror,

Nick Bunn and his Mate Steward fishing swim 9 having over 14 thities a 42lb Mirror and a Craking common at 40lb , fish taken on VALLEE SPECIAL boilies.

Michael Knapton fishing the Lodge having three forties plus also !!

.....................


The 1st of April was no fools day for Richie ... fishing swim 4 when he banked his PB a stunning 51lb 8oz Mirror Carp the first fifty for April ! falling to boilies..
other swims producing mixed results the same week with the best consistance catches comming to Andrew Eves fishing swim 1 in HOOK LODGE - Andy having an enjoyable week with over 13 fish and a few loses the best being a absolute stunning un-marked Common falling just short of 40lbs , but who cares a pb for Andy and sureley one of the best looking fish around.

WEEK END BONANZA!!!! 3-5/4/09.

On the back of Andew Eves success ,Dean Smith fished HOOK LODGE for a short week end session - Ending up with a incredable haul of 13 fish including three Morrors over 40lbs .
Within hours of arriving Dean landed a 38lb Mirror and sucess continued with fish at : 29lb ,38lb28lb ,45lbs,21lb,31lbs,(22lb Common 28lb Brace) 42lbs ,37lbs,25lbs ,46lbs and 31lbs.

'Quality fishing , fish and venue , my best ever catch' Dean Smith.

10 - 17th April..

Mike Piotrowski fishing swim 10 had a great week - Mike profiting by resting the swim during the day ended up with two PBs for his efforts the first a cracking 42lb Mirror and topping it again with a stunning orange tailed Mirror topping 47lbs - other fish to his credit included four 30s, best being a 39lb 2oz ,36lb ,and a 31lb Mirror also three upper 20s including a mid 20 fully scaled Mirror .

17 - 20th April .

Jamie Johnson fishing the lodge and first timers to France came away with 9 fish over the short w/end session including 6 fish over 30lbs (30lb ,32lbs,31lb ,31lbs ,34lbs ,33lbs)
and a wacker of a Sturgeon that needed the boat and ended up towing the boat up the lake before finally being netted after a gruelling 45lb battle..

'Jamie Johnson - a great set up , stunning lake ,fish and facilities and a thank you to Sam the Bailiff for rowing round the lake ! 'See you again !!
Vallee Lake Fishery, BP35, 76340, Blangy sur Bresle, France
Phone:
0033 235 94 66 85 / 0033 677 22 51 99
E-mail:
info@valleelake.com

Vallee Lake Fishery, BP35, 76340, Blangy sur Bresle, France
Phone:
0033 235 94 66 85 / 0033 677 22 51 99
E-mail:
info@valleelake.com